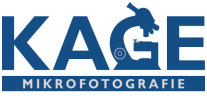 KAGE GbR
Christina Kage • Ninja-Nadine Kage
Schloss 1 • 73111 Lauterstein
Tel.: 07332 4317 • Fax: 07332 3330
info(at)kage-mikrofotografie.de
www.kage-mikrofotografie.de
Sales tax identification number according to § 27a UStG: DE246626257
copyright
All contents of this website (www.kage-science-art.de) are protected by copyright. The pages or their content may neither be used privately nor commercially, neither in layout and content, nor in any form used anywhere else.
content guarantee
The company KAGE Mikrofotografie makes the contents of its website available with the exclusion of any guarantee. KAGE Mikrofotografie does not guarantee that the content is correct, complete, up-to-date or suitable for specific purposes or that it is free of third-party rights. Errors, typographical errors, changes etc. are reserved.
All product names, product designations and logos mentioned on this website are registered trademarks and property of the respective rights holder.
The sole risk of using the content of this website lies with the user. KAGE Microphotography assumes no liability for damage. However, this exclusion of liability does not apply to intent and to legally prescribed and non-waivable liability.
The content of the website is managed by GOgrafix (Oliver Kage). It is only the law of the Federal Republic of Germany. Place of jurisdiction for all legal disputes is Stuttgart, Federal Republic of Germany.
If the content of this website is accessed outside of the Federal Republic of Germany, this access is at your own risk. The user is responsible for compliance with national law.
The present conditions apply in their respective current version. If the website contains more specific clauses, these take precedence over these general binding conditions of use.
Data protection (DSGVO)
liability for links
With judgment of May 12, 1998 - 312 O 85/98 - "Liability for links" the regional court (LG) Hamburg decided that by placing a link, one may be responsible for the content of the linked page. According to the regional court, accepting this accountability can only be ruled out by expressly disassociating oneself from this content.
Insofar as this website creates links to other websites (links), this is only done as a courtesy. The company KAGE Mikrofotografie assumes no responsibility or liability for the content of external websites. KAGE Mikrofotografie has no influence whatsoever on the design and content of the linked pages and expressly distances itself from them.
website design:

GOgrafix (gografix.de)
Oliver Kage
Schloss 1 • 73111 Lauterstein
go(at)gografix.de
t. 0176 2111 2220